June 2020 Newsletter
Summer Fun in St. Mary's County!
New! New! New!
Visit St. Mary's MD has a fresh new look! Check out our new website and new logo! Same great and exciting information, brand new look and feel!
Friendly Hall Farm in Mechanicsville is open for strawberry picking and has produce, meat, and other goods available! Visit their Facebook Page for more information and times!
Outdoor Dining in St. Mary's County!
With new additions to Stage One Re-openings in St. Mary's County, you can now enjoy some of your favorite restaurants in an update and safe dine-in style! Here are restaurants that are currently open:
- The Front Porch*
- Sweetbay Restaurant and Bar
- The Rex*
- Old Town Pub*
- SeaBreeze*
- Dos Amigos
- Days Off Deli
- Brudergarten Beer Garden
- Big Dogs Paradise
- Taphouse 1637
- Foxy Fish
- Helen's Cafe and Catering
- Linda's Cafe
- Ruddy Duck Seafood and Alehouse*
- Stoney's Clarke's Landing*
- Blue Wind Gourmet
- Social Coffeehouse*
- Generations Vineyard
- Xella Vineyard and Winery
- Port of Leonardtown Winery
- Antoinette's Garden
* = local restaurants that are also participating in the BOOST St. Mary's Gift Card Program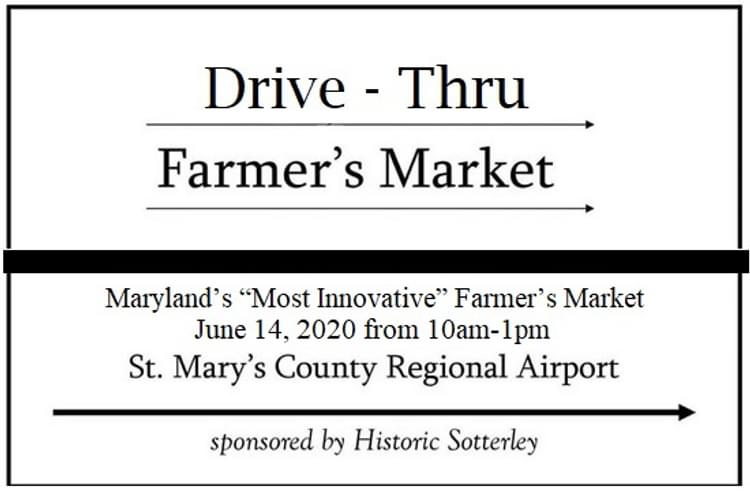 Drive-Thru Farmer's Market on June 14th!
The Drive-Thru Farmer's Market is back on June 14th from 10 a.m. - 1 p.m. Come to the St. Mary's County Regional Airport to pick up all your favorite goods and produce! Click here to for more information on the event!
Thank you to Historic Sotterley for sponsoring this event.
Xella Winery and Vineyard has a new location and tasting room in Mechanicsville! Enjoy a glass of wine with outdoor seating available!
BOOST St. Mary's Gift Card Program
The BOOST St. Mary's Gift Card Program is still going on! Order a $25 gift card from participating restaurants and get a $35 spending value! Click here for the list of participating restaurants and for more information.
Online Museum Fun in St. Mary's County!
Historic St. Mary's City, Historic Sotterley, PAX River Naval Air Museum, St. Clement's Island Museum, and Piney Point Lighthouse Museum are offering fun and educational learning opportunities during quarantine! From weekly educational videos to a 3-D virtual tour of the Blackistone Lighthouse! Grounds are open for visitors during this time, but social distancing is still encouraged for visitors.
Click here for details and information about what the museums in St. Mary's County are offering!