Gavin with big rockfish from the mouth of the Patuxent that took a trolled Hard Head Custom Bait Saturday morning.
Tangier Sound and the Salt Islands have been filling up with specks fot the last ten days. There have been catches on the western side of the bay too, with reports of one or two here and there from the Patuxent and Potomac. This is very early in a season delayed due to the cold weather, so the promise is that we will have a truly great run of speckled sea trout this year.

The striper season continues to be good with average catches in our area with an occasional hot spot cropping up. We have even seen some big females with eggs and sea lice fresh from the Atlantic to spawn, unusual for the first of June. The real action for the rockfish is north of Chesapeake Beach to Baltimore Harbor where the stripers are swarming.
Big gator trout from eastern Shore shallows.
The other big development is the return of the cow-nosed rays for their annual birth-giving and mating. They tend to school up in big numbers and dominate the water, feeding on most anything that moves and smells good. Catching these big bruisers is a challenge and most fishermen look upon them as pests as they have no food value.

There are white perch biting now in the creeks and rivers. There are some spot moving in too, but these are the forerunners of the main body that will show up about the fourth of July. The fishing off the public pier at the Solomons bridge and at Point Lookout has not been that good. Everyone wants to get out of the house and enjoy the sunny days, but the conditions need another ten days to warm up and get the winter grass out before really consistent catches can be expected.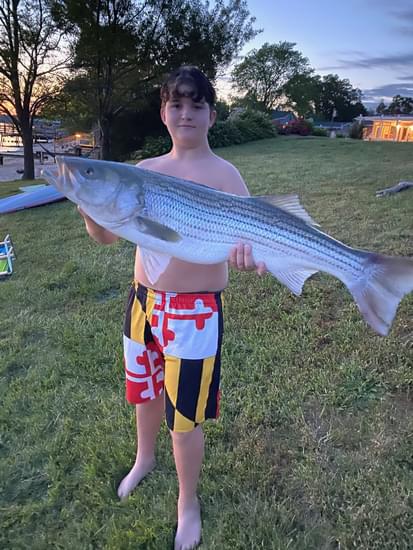 First Photo: Cole Tinsley went fishing for the usual cat Fish off his dock in Breton Bay , and landed this 40 inch, 30 pound rockfish. What a surprise, well done. Second Photo: Gary Waters and friends with speckled trout from Tangier Sound.
The Patuxent and all other Maryland waters are now open for rockfish and there should be fish in the shallows for lure casters, and in the deep water for trollers. The catch is limited to one fish per day, minimum of 19 inches.

There has been a smattering of blue fish caught here and there, but nothing consistent. I have not heard of any blues or rockfish breaking on the surface yet.

We are still waiting for croaker. There have been rumors of spanish mackerel in ones and twos. We await cobia.
First Photo: Norman Jones shows off an 11 inch white perch from the Patuxent River. Second Photo: Jordan Trentich and crew with a catch of specks from the South Marsh Islands.