March 25, 2020 - Fish Are Still Here
The fish don't know about coronavirus.
There has been a great run of yellow perch at Allen's Fresh for the last ten days. The yellows are just about finished, but the white perch are coming and will be in the shallows not only at Allen's Fresh, but also in the head waters of all creeks and rivers.
The yellow perch seekers have found white perch, crappie, snakeheads, largemouth bass, and chain pickerel up the Potomac in Mallows Bay. And just about everywhere else.
​Catfishing is excellent in Bushwood where cut-up fresh alewives will bring plenty of strikes. It is possible for a couple of fishermen to catch a cooler full of three to five pound catfish in a couple of hours off the public pier there in St. Clements Bay.
The water temperatures are high for this time of year as we have had a mild winter, and the fish are acting like it's April instead of March.
St. Mary's Lake is producing crappie, bluegill, yellow perch, bass, and bluegill. Live minnows fished under a bobber have been very effective as well as small spinner baits like Beetle Spins and shad darts. The chain pickerel have been dynamite in St. Mary's.
There have been some bay boaters jigging at the Power Plant outfall and have found stripers in all sizes. This is all catch-and-release with barbless hooks. The hook and release ends on April first and the stripers can not be targeted until the trophy season begins on May 1.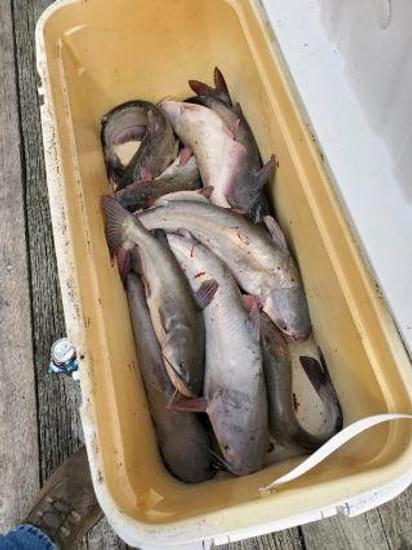 Cat Fish from Bushwood Pier, St. Clements Bay.
Typical cat fish from the pier at Bushwood.
Erick Packard, Isisah (4th picture), and Chris Whiteman (5th picture) with snake heads and chain puckerel.