Local Cuisine
Bucket List Bites
Whether you are a day tripper or a world traveler, your "best trip ever" story most likely includes some fabulous foods you ate along the way.
Here's our list of fantastic food finds throughout St. Mary's, recommended by visitors and locals alike as must-eats during any visit. Beyond our famous stuffed ham, which appropriately makes the list in more than one form, see how many of these tasty treats make it on your travel itinerary.
Crab Cakes from POV Restaurant at Pier 450

We wouldn't be considered good neighbors of the Chesapeake Bay without mentioning at least one crab cake, one Maryland crab cake, of distinction. In St. Mary's, "seafoodies" seem to agree that POV Restaurant at Pier 450 serves up that distinct and, dare we say, transcendent crab cake, as part of their superb dining experience. Other dishes of distinction here include best-in-class hushpuppies and a vegetarian salad sampler that fills and thrills, alongside a craft cocktail menu of notable potables.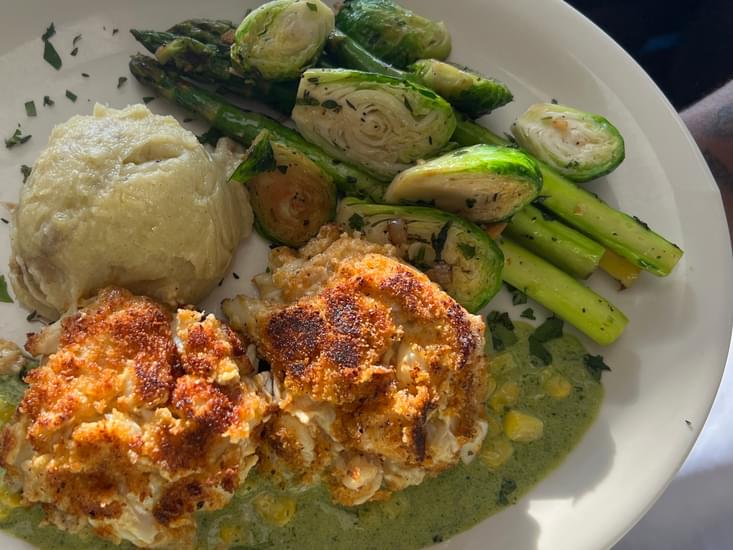 Fried Chicken from Chaptico Market

Ironically located near significant sites from both the Civil War and the War of 1812, yet fully under the radar of the recent "chicken wars", almost everyone in St. Mary's agrees that Chaptico Market serves the very best fried chicken. You'll find this locally-owned market along the rural roadways between Leonardtown and St. Clement's Island Museum, and their popular food truck frequents many of St. Mary's fairs and festivals.
Cannoli from Nolis Italian Cucina

There's certainly a buzz around the pasta and pizza dough made fresh daily at Nolis Italian Cucina, but their name offers a hint at the dish that you must save room for; cannoli. This old-world recipe cannoli is hand-rolled and deep-fried, filled with authentic ricotta filling, and topped with powdered sugar and a caramel or chocolate drizzle.
Stuffed Ham from W.J. Dent and Son's

Tall Timbers is where you'll find Andy's Butcher Shop and Deli and Chiefs, "Your Neighborhood Bar"—and the place for St. Mary's most famous delicacy. First opened in 1927, now operated by the third generation of Dent's, this legendary spot offers Andy's famous Southern Maryland stuffed ham straight up or as a sandwich, a slider, a pizza, and even in an eggroll. Stop by on your way to Piney Point or St. George Island, or queue up at their food truck---these stuffed ham treats are definitely worth it!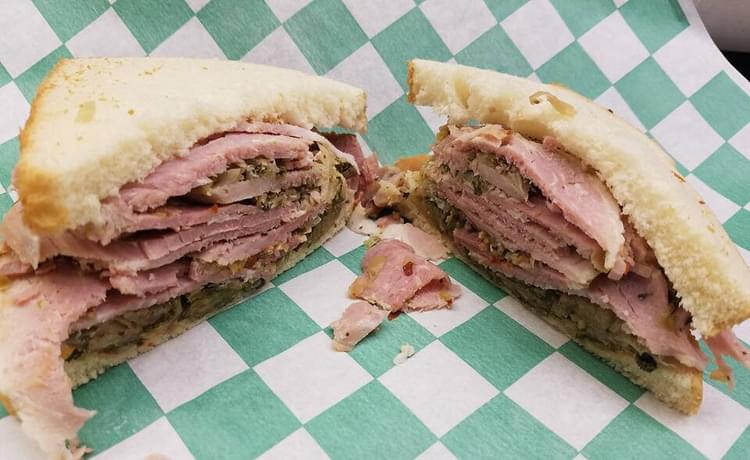 Oysters Rockefeller from Brudergarten Beer Garden

In St. Mary's we love oysters served up just about every way imaginable; raw, scalded, grilled on the barbie, on bread, on the half shell, stewed, nude, cooked in savory sauces, in salads, and even in desserts. In season, these bountiful bivalves can be enjoyed fresh from the Bay at most of our local seafood restaurants, but folks here seem to agree that this particular dish is not to be missed. These locally-sourced oysters topped with a house-made Rockefeller mix and toasted French baguette pair perfectly with a refreshing craft beer, served under the trees at this Leonardtown hot spot.
Blackberry Cobbler from Courtney's Seafood Restaurant

To call Courtney's a Mom and Pop establishment is the definition of literal here—after 40 years, Pop still goes out and catches the fish daily and Mom cooks it up alongside made-from-scratch rolls and sides. While locals rave about the rockfish, the spicy crab soup and the lumpia, the hands-down favorite at the "down county" landmark is their blackberry cobbler. While there's nothing "fast" about the food here, trust us, it's worth the wait!
Ice Cream from Salted Scoop

The scrumptious aroma of freshly made waffle cones is guaranteed to lure you to the counter at Salted Scoop in Leonardtown. But alas, your journey to ice cream nirvana has just begun, and the next step is the hardest: picking your flavor! Luckily, there are no wrong answers here. This farm-to-cone ice cream is hand-churned and crafted using fresh local ingredients. While we can't offer more guidance on this very personal decision, this author's go-to is a scoop of chocolate marshmallow atop a scoop of banana.
French Fries from Do Dah Deli

This intimate breakfast and lunch spot in Leonardtown offers an array of fresh soups, sandwiches and salads, but the notable nosh here is definitely the french fries. I know what you're thinking, but trust us, these are no ordinary spuds. We have heard them called phenomenal, and while we don't know how they do it, there is just something truly special about these fries.
Cheese from Clover Hill Dairy

Surrounded by bucolic farmland, this cooperative dairy is owned and operated by our Amish Community and offers a variety of fresh cheeses, jams, candies, and hand-crafted items. From cheddar to cuajada, there isn't a bad cheese in the case. While many are super-fans of the smoked cheddar, at these prices you can sample them all and pick your personal favorite. And while you're in the area, be sure to stop by the Barns at New Market for even more products and produce from our Amish neighbors.
Slice House for Pizza

Pizza is a very personal issue, so we are tempted to include a disclaimer here to avoid any arguments. Let's face it; there is a lot of good pizza in the world. That said, what you will encounter at Slice House is known around here as great pizza. There are two locations where you can enjoy this prominent Brooklyn-style brick oven pizza. Choose to carry home a whole pie from their Washington Street location, or stay for a slice (or two, or three) at their Park Avenue location, both within historic Leonardtown. And again, don't skip dessert; Bee'z Knees ice cream and ice cream sandwiches are made and sold here. Their elevated flavors include classics like vanilla and astonishing combos like smoky cardamom swirled with house-made salted caramel—and yes, my mouth is also watering!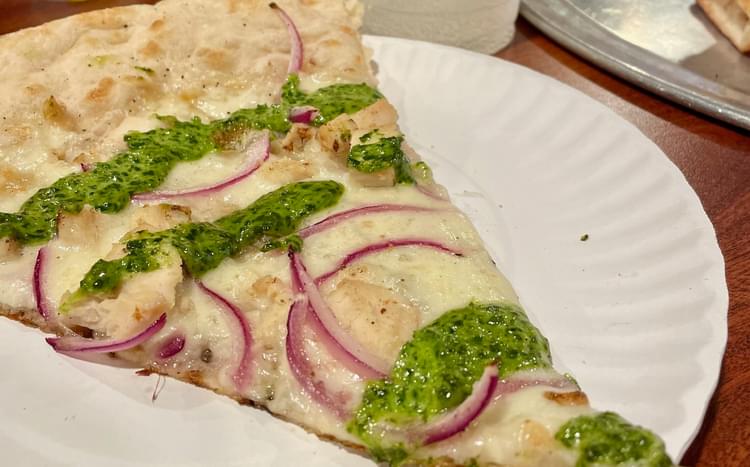 Black Point Chocolates from Blue Wind Gourmet
As you step inside this gourmet shop on Rt. 235, it's easy to get lost among the superb selection of wine and liquors that line the walls of this local eatery. The true chocoholics among us never make it that far. Instead, they are immediately drawn to the tables of treats located just inside to the right. This is the home of Black Point Chocolates. Proving once again that everything is better with chocolate, this local chocolatier offers a sweet array of chocolate covered everythings, along with caramels, marshmallows, mints and more. Pick up a gift box to take back for the boss (if they deserve one!) or just a few treats for you and your travel friends to enjoy on your journey through St. Mary's. We suggest you buy extra and save yourself the trip back---trust us, your sweet tooth will be grateful!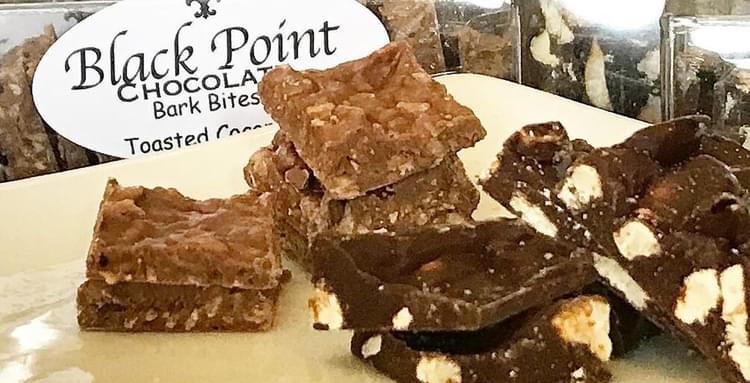 Are you full yet? We recognize that this list is not complete, so we invite you to take a minute and pitch us your personal favorites that we missed. Message us on social with your St. Mary's must-eats and they just might make it on the next fantastic foods round-up!