Walkable Weekend
Leonardtown Getaway
Leonardtown is a gorgeous downtown area with local shops, great local dining, a waterfront park, winery, and much more all within walking distance!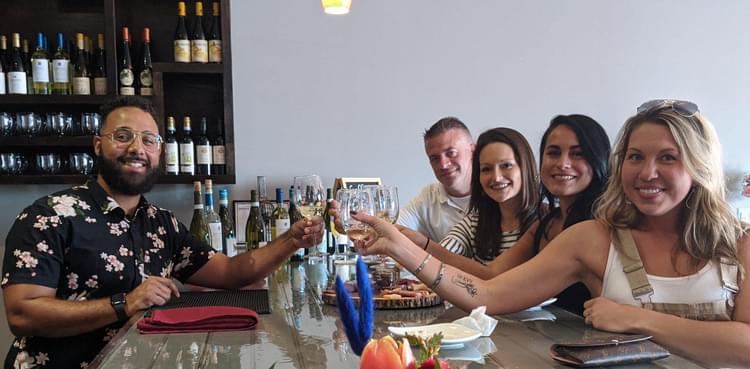 Leonardtown received its moniker "a most convenient place" back in the early 18th century. Since then, Leonardtown has continued to grow into this nickname and become a truly convenient place that everyone enjoys. The Town is full of locally owned restaurants, unique shops and boutiques, an award winning winery, a waterfront park with a public pier, and a newly renovated hotel. Not sure where to start? The Old Jail Museum and Leonardtown Visitor Center provides visitors and locals with information on the things to do and the local businesses that you should visit.
Downtown Leonardtown is also a great place for art lovers. This downtown area is the only designated Arts and Entertainment district in Southern Maryland, making it the home of many local art galleries and artists and the A&E First Friday that features a wide variety of artwork and local artists throughout the Town.

The Town of Leonardtown is a truly convenient place that allows you to have a weekend getaway or vacation with all of your activities within walking distance. See what The Inn at Leonardtown has to offer for your future stay. Park your car and explore the fun that the Town is waiting to share with you today!
Eat and Drink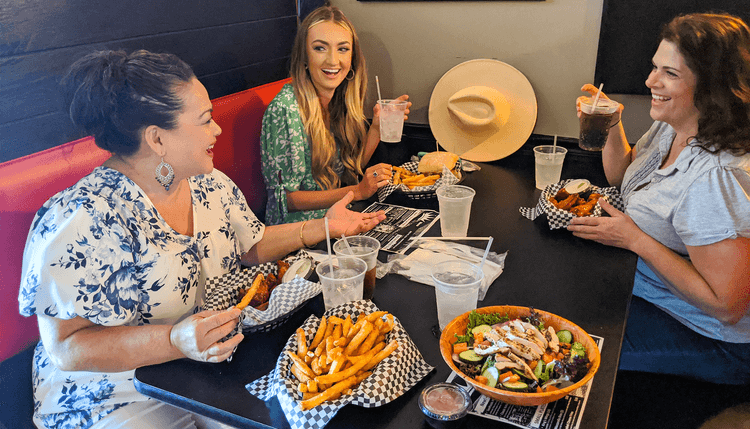 Our local restaurants strive to bring amazing dishes and creatively made drinks that will make you come back for more.
Breakfast is the most important meal of the day to get you energized for your day of fun. Head over to Social Coffeehouse for a cold brew with special flavored cold foam (ask them what their specialty cold brew and cold foam combination of the month or season is) with a hand made pastry or your own designed bagel sandwich. If you're feeling adventurous, try out their mimosa towers. If you are feeling a more traditional breakfast, head over to the Ye Olde Towne Cafe. You'll feel like you're dining in an old diner as you enjoy your pancakes.

Brunch is always a great way to start off your Sunday mornings. The Front Porch has unique flavor combination pancakes and mimosas. The historic Sterling house is a great location to start your day as you enjoy the individual dinning rooms or sit on the porch and take views in of the Town. Enjoy the beautiful view of the Town Square at Sweetbay Restaurant for a Sunday morning brunch with bottomless mimosas and handmade traditional brunch dishes. Located right on the corner in the Town Square, they have a wide variety of seating options for you and your travel companions.
Mid-day bites can lead you to great restaurants and cafes on your adventures. The Slice House offers you New York Style pizza by the slice or a whole pie. They even have unique flavor combinations like Mac and Cheese pizza. If you're looking for a sandwich, head over to the Botanic Deli and Cafe located in the Shepherd's Old Field Market. They have organic options, such as sandwiches, salads, soups, and more, for you to enjoy in the market or for to go. Break out your tie-dye shirts and 70's music when you head to Do Dah Deli for lunch. This New York style deli has a wide variety of handmade sandwiches and sweet treats that will make you feel groovy.
A great way to end the night is with a tasty meal and drinks with your friends and family. Il Piccolo Morso offers you authentic Italian style dishes from a locally-renowned restaurateur who has been bringing amazing dinning experiences to St. Mary's County for several years. The Rex is former movie theater, turned restaurant has great bar style dishes that you can enjoy with occasional live music. Take a look at the custom theater décor and enjoy fresh popcorn when you visit. Come enjoy the local favorite, Olde Town Pub, known for their wings and craft beer selection (you can never go wrong with Old Bay wings here in Maryland).

Need to satisfy your sweet-tooth? Heritage Chocolates is chocolate shop that provides customers with handmade chocolates and gelato. You can choose any already premade chocolate box or select your own chocolates for a custom box for yourself. To cool off, the Salted Scoop has farm fresh and locally made ice cream with a wide variety of flavors. Can't choose a flavor? They have ice cream flights for you to mix and match flavors for all types of combinations.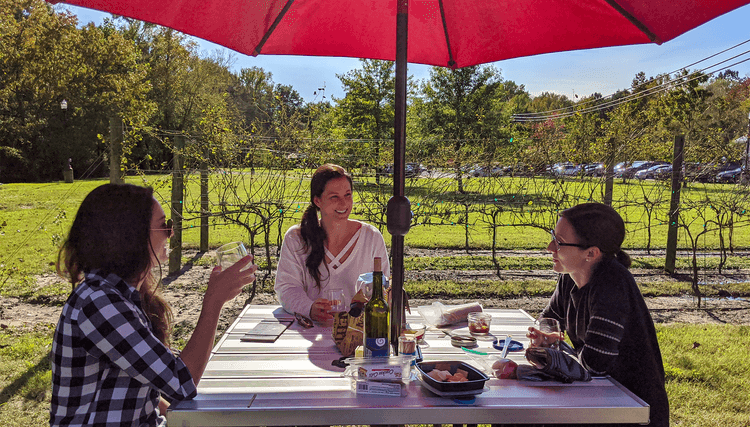 Leonardtown has fun locations for you to visit for hand crafted and local drinks.
Antoinette's Garden creatively made wine cocktails, some made from local moonshine from Southern Trail Distillery, or sample a wide selection of wine right on Leonardtown Square.
Brudergarten is a beer garden located at Shepherd's Old Field Market, that serves local craft beer and creatively made cocktails. Play cornhole and pool soccer while you listen to live music when available as you enjoy German style snacks such as large pretzels and beer brats.
Port of Leonardtown Winery (the first winery in St. Mary's County) is a co-op winery has won several awards over the years for their amazing wines, red, white, and more. Sample a wide selection of red and white wines that every wine lover will enjoy. They also have wine slushies available with live music and food trucks on the weekend.
Shopping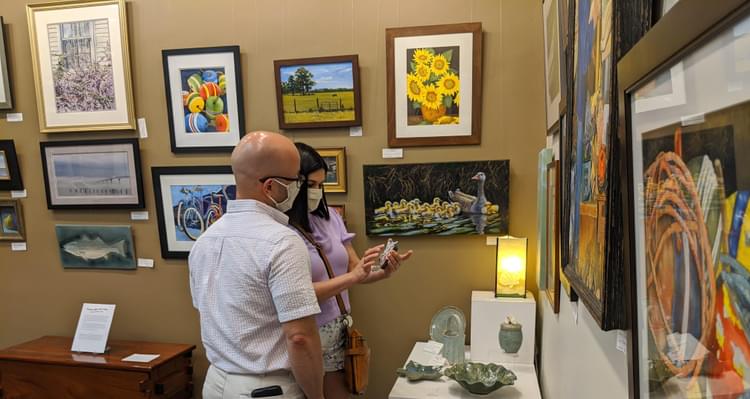 As the only designated Arts and Entertainment District in Southern Maryland, many local artists have made Leonardtown their home in local art galleries and shops. North End Gallery is currently celebrating its 35th anniversary and is the oldest art gallery in St. Mary's County full of unique and locally made art, with occasional demonstrations on different art techniques. The St. Mary's County Arts Council plays an instrumental role in Leonardtown Arts and Entertainment District, and is full of unique art from paintings, sculptures, jewelry, and more. Another great co-op located in Leonardtown, is the Craft Guild Shop. Originally called the Christmas Country Store, it has become a location for local artists to create and display a wide range of artwork in this gift-shop type of store.
Leonardtown is home to many local shops, art galleries, and boutiques. Whether you are looking for a piece of art for your home, a memento to remember your trip, or a new outfit, there is something for everyone.
Things to Do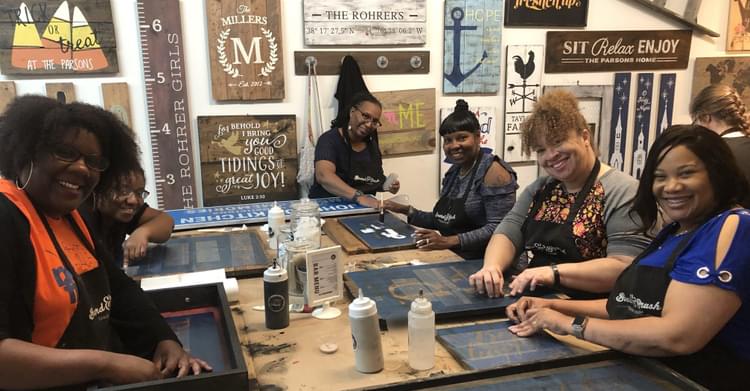 Start your adventure in Leonardtown at the Old Jail Museum and Leonardtown Visitor Center where you can find information about the various businesses, events, and other activities going on in Town. The Old Jail Museum is also full of history about the Leonardtown area. It is the oldest sheriff's office in the nation and played an instrumental role in the Underground Railroad in Maryland.
A legend also lives in Leonardtown, behind Tudor Hall. Behind this building, you will find the Moll Dyer Rock. It has been told that Moll Dyer was accused of witchcraft and chased out of Town and found frozen solid on the rock being displayed. Legend says that she placed a curse on the rock, are you brave enough to touch the rock?
Enjoy the great outdoors with the Town's waterfront park where you can rent kayaks and paddleboards from Patuxent Adventure Center (PAC), a local outfitter, and explore the Breton Bay (you may even see a bald eagle on your outing). Want to take it to the next level? Kayak or paddleboard to McIntosh Runand find yourself at Port of Leonardtown Winery where you can enjoy a glass of award winning wine. Take in beautiful views of Leonardtown and St. Clement's Island, and pack your favorite snacks and drinks to bring on board.
Get your mind in creative mode to make out with riches, break a curse, or to solve the mystery behind the disappearances. See f you can live up to these challenges at the Escape Room Southern Maryland, a locally owned and designed escape room located right off of Leonardtown Square. You can also get creative with designing your own sign at Board and Brush. Have a glass of wine or beer and create your very own masterpiece to bring home a little bit of Leonardtown with you.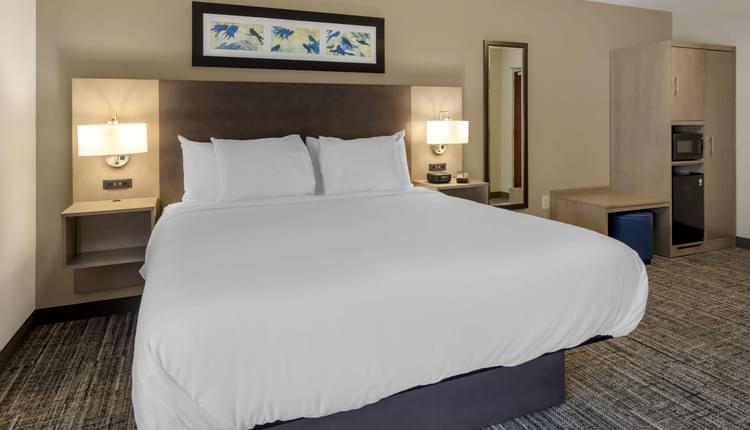 Want to escape to Leonardtown? There are so many things to see and do in Leonardtown that you'll need to book an overnight trip! The Inn at Leonardtown is ready to welcome you. This boutique hotel is newly renovated and located in the heart of Downtown Leonardtown, so you're able to walk to everything you want to do! Click on the link below to book your stay today.
Want to learn more about Leonardtown? Click on the links below to find out more information on the Leonardtown area and to see what fun events are happening!