Cycle St. Mary's County
Weekend Cycling Excursions
Come cycle through Maryland's best kept secret! Clean country air, beautiful vistas, and a diverse and welcoming community await you in St. Mary's County….so, get on your bike and RIDE!
Whether you're an experienced solo cyclist or a member of a pedal-powered posse, St Mary's County offers one of the safest trail networks in Southern Maryland. Our miles and miles of open roads wind through both farmlands and forests with historic landmarks and interesting stops around almost every bend. Whether you want to ride through time learning Maryland's history from her birth, taste local wines and spirits as you meander along, or challenge yourself to a rigorous hundred-mile ride, St. Mary's is truly a pedaler's paradise!
Our favorite routes include:
Cycle through history on the 7th District Loop:
This relatively easy 18-mile route is mostly flat, climbing only 311ft. along the entire course. Ride straight through and enjoy the passing scenery and beautiful water views or stop along the way to explore some of our rich historical sites.
Experience rural charm on the Amish/Mennonite Loop:
This 15-mile route takes you inland to cool forests and windswept fields that seem to go on forever, with a total elevation gain of only 584 feet. Make sure you keep your eyes out for buggies entering the road, and occasionally look out for other signs of horses left on the road! If you're looking for a similar route that is a bit longer, the 55-mile Hills and Buggies Route expands on the Amish/Mennonite Loop and adds in a few more local sights along the way.
Keep it 100 on The St. Mary's Century:
Wind through both beauty and history on this comprehensive 100-mile route with a little over 3000 ft. of total climbing. The sparsely traveled roads and buggy-wide 5-foot shoulders make this both a great route for your first century as well as a refreshing and enjoyable ride for the seasoned centurion!
Check out more cycling routes here.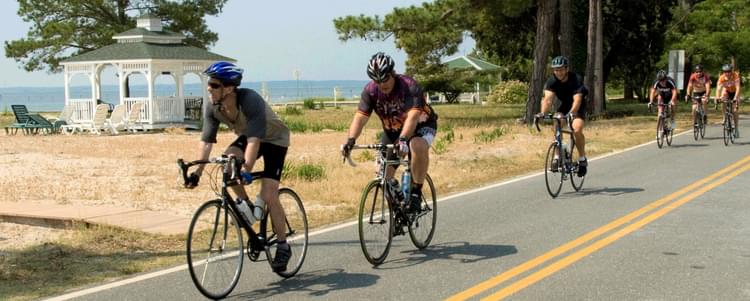 Begin planning your weekend by booking a room at one of our conveniently-located hotels, inns, or charming bed and breakfasts.
Here's a list of our most bike-friendly places to stay. These places offer guests a place to clean and securely store bicycles, along with a place to refill your water bottle and access to restrooms, even if you aren't a guest:
Susannah's Watch B&B - This historic waterside bed and breakfast offers five uniquely appointed rooms, beautiful views of the Patuxent River and delicious, locally-sourced breakfast daily. You can also bike from here to the Amish/Mennonite Loop.

Fairfield Inn and Home2 Suites- Guests at either of these two neighboring hotels are welcome to store and wash bikes at Home2 Suites. Both locations are close to the St. Mary's City Loop , the Homegrown Farmer's Market, and many familiar shops and restaurants.
Other hotels, inns, or charming bed and breakfasts convenient to our bike routes include:
Country Inn and Suites – Start your day with a free, hot breakfast and end with a dip in their indoor pool as a guest at this conveniently located hotel. Even if you aren't a guest, you can stop here to refill your water bottle and use the restroom along your ride.

Swanendele Inn –Relax on the expansive wrap around porch of this elegant, upscale country inn on the shore of St. Jerome's Creek and the Chesapeake Bay after a long ride exploring
Pier450 – With eight unique rooms right on the water and a restaurant attached, this remote boutique motel is adjacent to the St Mary's City Loop and ideally situated for a long country ride through south county.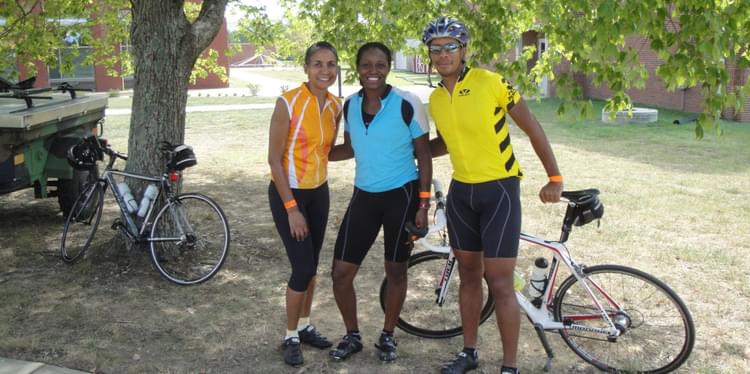 Delightful detours along the routes include:
After your day of riding, enjoy some local flavors at one of our unique dining establishments:
Head to brunch before you saddle up on day two:
There's more to explore on day two:
Whether you're looking to outpace your bicycle club with a distinctive two-day tour or you're just looking for a fun getaway get together with your biking buddies, our concierge service will help you find the best routes, restaurants, lodging and attractions to make your weekend cycling excursion unforgettable. We can even coordinate custom events like private tastings, tours and cruises for larger groups seeking a truly unique weekend experience. So go tune up your gear, stretch out your spandex, and LET'S RIDE!

Want our help planning a custom cycling excursion for your group? Contact us by phone at 240-577-0524 or by email at info@visitstmarysmd.com.